2017 Hyundai Santa Fe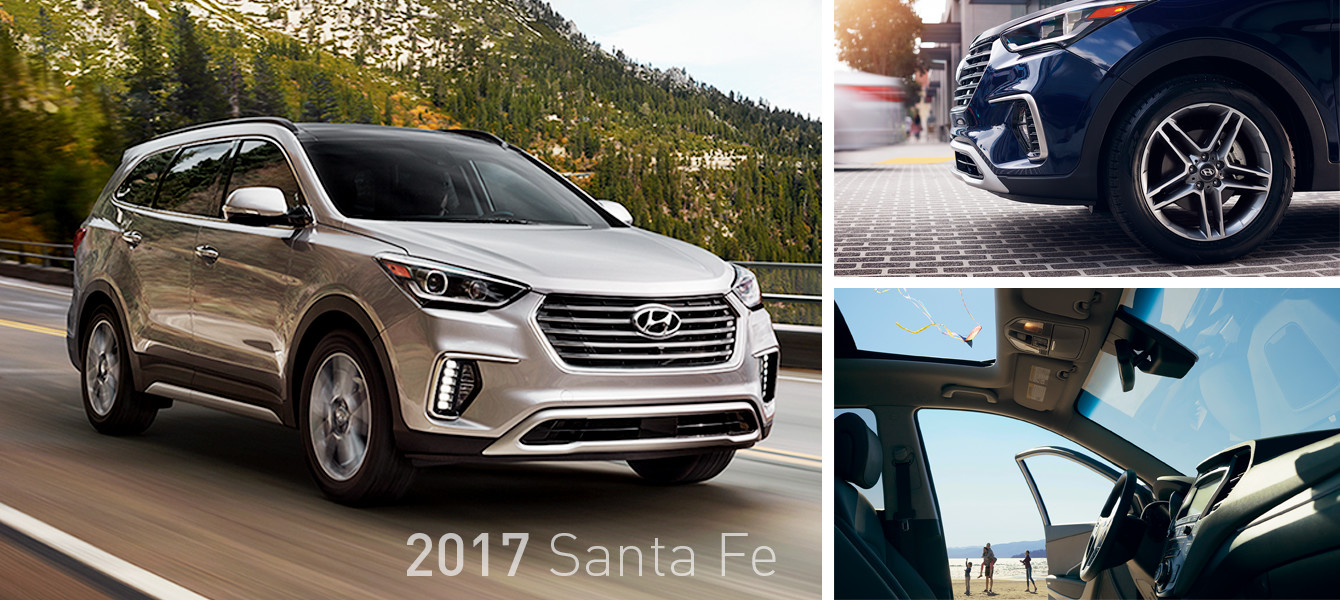 The 2017 Hyundai Santa Fe is exactly the vehicle you want if you're seeking out a Hyundai in Maryland that meets the needs of you and your family. The 2017 Hyundai Santa Fe features a jaw-dropping look that is sure to turn heads. On the outside you'll find a bold exterior, equipped with a sleek, aerodynamic layout that makes the Santa Fe look like it is in motion, even though it is parked. The aerodynamic design also works to increase your fuel efficiency and take it easy on your budget. One of the top Hyundai dealers in Maryland, Preston Hyundai has a wide selection of Hyundais in Maryland.
The high-tech GDI 2.4L 4-cylinder engine comes standard in your Santa Fe. It comes complete with dual continuously variable valve timing (D-CVVT) and gasoline direct injection (GDI) to bring you 185 horsepower and 178 lb.-ft. of torque, more standard horsepower than the Chevy Equinox. There is also a 2.0L GDI 4-cylinder engine available that features a twin-scroll turbo that brings you 240 horsepower and 260 lb.-ft. of torque.
Safety is a top concern for any family out there seeking a new car. The 2017 Hyundai Santa Fe has a plethora of available class-exclusive safety and security features that make it the go-to SUV for any mother or father. From pedestrian detection to the multi-view camera system, and a number of other additional pluses that allow owners of a 2017 Hyundai Santa Fe to rest easy knowing that their family is safe on the road. Being one of the best Hyundai dealers in Maryland, Preston Hyundai always has your safety in mind.
Smart cruise control has a stop/start capability, which is an available feature that detects a vehicle in your lane ahead, and automatically slows your Santa Fe down, maintaining a safe distance and even coming to a full stop if needed. Don't worry, it will start moving again without any driver input at all. This cruise control not only helps you keep your hard-earned dollar safe by conserving gas, but more importantly, it keeps you and your family safe.

The Santa Fe doesn't only work to keep the people in the vehicle safe, but it also works to keep pedestrians safe as well. The automatic emergency braking system uses both a radar sensor and a camera to detect if a crash is imminent. Once an accident is impending, your Santa Fe deploys the brakes. The system can even apply full brake-force stopping power from 5 to 50 mph, and if a pedestrian is detected, full stopping power is automatically applied from 5 to 43 mph. Our dynamic bending light turns the headlights as you turn the steering wheel to let you always see exactly where you're going.
The multi-view camera system is available, featuring four cameras providing a 360-degree view around your Santa Fe. We're talking about a forward-view cornering camera mounted on the front grille, two cameras built into the sides mirrors, in addition to a rearview camera. This allows the driver to see an aerial view of the Santa Fe, then select which camera they would like to view. These views are displayed on the central in-dash navigation screen.
Blind spot detection utilizes rear cross-traffic alerts and lane change assist through a radar-based system that detects when a vehicle is in your blind spot. A visual and audible alert serves to keep you aware of your surroundings. If a vehicle approaches from the side, your rear cross-traffic alert will notify you. Lane change assist checks the speed of approaching vehicles in the adjacent lane to figure out if it is safe to change lanes. If not, the Santa Fe lets you know with an audible and visual warning.
Lane departure warning informs you via audible and visuals cues if you drift outside your lane without signaling. Our rear parking sensors serve to make backing up easier, using audible warnings that increase in frequency and tone as you get closer to the detected objects. The electric parking brake aids you when you park via the automatic vehicle hold feature that will engage the parking brake automatically after the brake is depressed, without your foot having to hit the pedal. Once you hit that pedal, the electric parking brake automatically disengages. Then you're free to take your family where they need to go, with the peace of mind knowing that they're safe and sound in your 2017 Hyundai Santa Fe. Preston Hyundai is one of the top Hyundai dealers in Maryland, and has a variety of Hyundais in Maryland to select from.