2019 Hyundai Santa Fe SE v. 2019 Honda CR-V LX

full-size SUV while bringing you the drivability of a smaller sedan model? If you are, then you are most likely choosing between the 2019 Hyundai Santa Fe SE and the 2019 Honda CR-V LX. These are two of the top compact SUV models available for purchase today, so choosing between the two of them can be a tough call to make. They both bring you versatile and reliable performance plus luxurious interiors, but there is a handful of differences between these vehicles. Since everybody has different needs, you will want to check out what each of these vehicles have to offer so you can choose the one that fits your life the best. At your Hyundai dealer near Delaware, we have done our homework on each of these models so you can figure out which one brings you what you need. Let us help you choose between the 2019 Hyundai Santa Fe SE and the 2019 Honda CR-V LX today.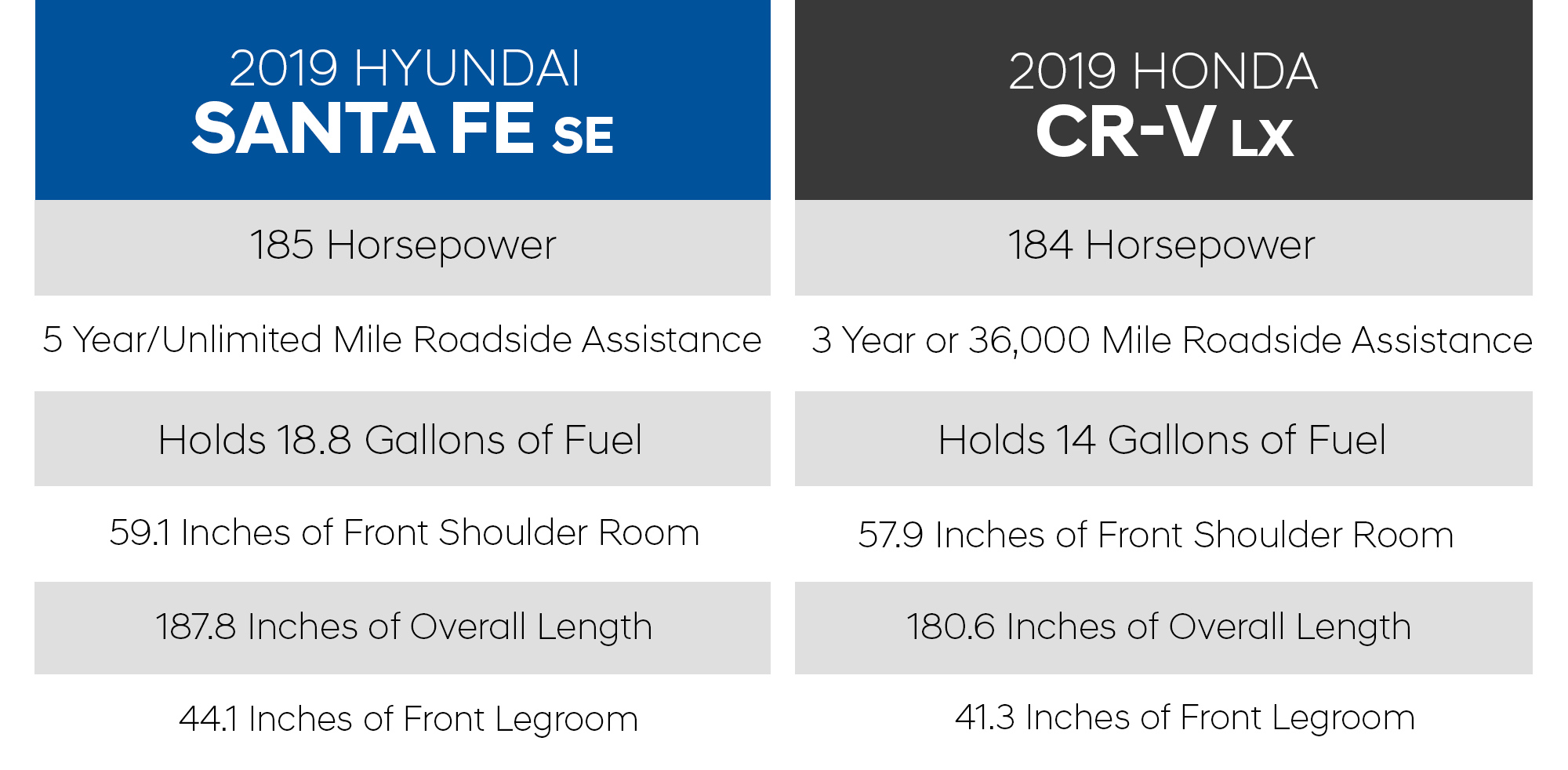 One of the most important factors that shoppers keep in mind when purchasing an SUV model is the amount of power that you will get from the engine. When you get your Hyundai Santa Fe up to 6,000 RPM, it will grant the driver 185 horsepower. The Honda CR-V LX is capable of getting a very close 184 horsepower, but it also needs the engine to get up to 6,400 RPM to do it. You can also count on the Santa Fe to bring you a higher maximum towing capacity than the Honda CR-V. Your Hyundai will be able to tow 2,000 lbs. while the 2019 Honda CR-V LX tops out when it is hauling 1,500 lbs. Have the peace of mind knowing that you can haul whatever you need behind your Santa Fe. When you're behind the wheel of this SUV, you can also count on less stops at the gas station. This is because the gas tank of the Santa Fe SE is larger than that of the CR-V. The Santa Fe's gas tank houses 18.8 gallons of fuel, while the Honda CR-V's tap only holds 14 gallons of gas. Don't worry about interrupting your trips by constantly stopping for gas when you drive a 2019 Hyundai Santa Fe SE.
Drivers will also find that this Hyundai model has a size advantage over the Honda CR-V LX. It boasts a wider wheelbase, measuring in at 108.9 inches, instead of the 104.7-inch wheelbase of the CR-V. This model is also longer, with an overall length of 187.8 inches, which is over half a foot longer than the 180.6-inch 2019 Honda CR-V LX. This extra room allows for the interior of the Santa Fe to be more comfortable than that of the Honda CR-V. Stretch your legs out with the 44.1 inches of front legroom as opposed to the 41.3 inches of front legroom in the CR-V. Your front passengers and your back passengers will both have more shoulder room in the Santa Fe SE, boasting 59.1 inches and 58.3 inches respectively. The 2019 Honda CR-V LX brings you just 57.9 inches of front shoulder room and 55.6 inches of rear shoulder room. While this Santa Fe brings you 110.7 cu. ft. of EPA passenger volume, the 2019 CR-V only boasts 105.9 cu. ft. of room. Hyundai also has you covered for longer periods of time when it comes to corrosion/rust through and roadside assistance. The corrosion/rust through warranty for Hyundai lasts for 7 years and unlimited miles, while the same policy for Honda ends after 5 years. The Hyundai roadside assistance program lasts for 5 years with unlimited miles while the same policy for Honda only lasts 3 years or 36,000 miles. Come visit your Hyundai dealer near Dover DE today so you can see for yourself how the 2019 Hyundai Santa Fe SE has the clear advantage.